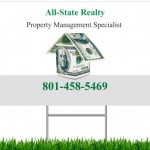 Alixander Brosig, ABR, CPM, CRS, PB, PM, RSPS, SRS, SRES
Phone: 801-458-5469
Mobile: 801-458-5469
About Alixander Brosig
Mr Brosig has 24 years experience and is an expert in mortgage & real estate. Since the age of 16 he has been a fresh thinking, creative, tenacious and collaborative entrepreneur. He specializes in developing new cutting edge startups. Mr. Brosig's areas of expertise are real estate and mortgage banking with a focus on property management. He is the founder of 6 companies (All-State Realty, ASR Property Management, All-State Mortgage, ASR Marketing, F&R Realty, NOWTIME Consultants LLC. New projects include Consider It Done!!! A Premier Concierge & Consider It Done at Home Care for Seniors, and recently a Welding Studio project is his latest passion) Mr Brosig is also an aspiring welding artist. Brosig has personally been involved with every step of development for all these endeavors. His creative ability has taken them from the idea board, testing viability, preparing business plans, branding, web site development, implementing systems and mentoring the amazing teams to support the companies. He has accomplished all this by age 40. Mr. Brosig is well versed in leadership, motivational, personal/business growth and training. He believes that our youth and startup entrepreneurs will help create a brighter future and a better world. From his inner journey he brings forth his life lessons and experiences sharing his own transformation as a conscious entrepreneur. His ability to take his audience on a journey of discovery and growth is unmatched. With more than 24 years of experience Alixander L Brosig is leading a bold movement to inspire entrepreneurs to create their own conscious startups that can change the social fabric of societies throughout the world. His deep calling to understand and connect to his greatest purpose in life led him to focus on his spiritual path and in forming an alliance with all in his circle.
Additional Languages:
Spanish
UtahRealEstate.com is where real estate listings originate, and it is the most used property information platform for real estate professionals in the state of Utah. UtahRealEstate.com offers you the most complete and current property information available.
Find Utah Homes for Sale by City
Find Homes for Sale in Utah by Zip Code
I am mister notify