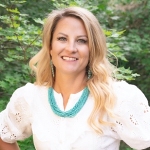 Tiffany Alder Bown, PB
Phone: 435-283-6626
Fax: 435-283-4371
Mobile: 435-851-0471
Sanpete Valley Realty LLC
About Tiffany Alder Bown
If you're looking for a REALTOR@ that is knowledgeable about Sanpete County, then look no farther.

Tiffany graduated from Manti High School, Snow College and Southern Utah University where she majored in Dance and minored in Business Administration. She enjoys the world of movement and spending time with her family.

The mother of 3 boys. Tiffany's interest in real estate was fueled by her mother Theressa Alder. Theressa began Sanpete Valley Realty 40 years ago. When not busy helping buyers find their perfect homes, business or farms or assisting clients in selling their properties, Tiffany following her boys to rodeos, baseball, soccer and football games.

Tiffany pride herself in always trying to put herself in her clients' shoes. She lives by the mantra, 'Always treat others the way you wish to be treated'. She recognizes that every individual is different and has different needs and wants, therefore understanding what their needs are will go a long way to establishing a great working relationship as well as a great friendship.
My Listings
UtahRealEstate.com is where real estate listings originate, and it is the most used property information platform for real estate professionals in the state of Utah. UtahRealEstate.com offers you the most complete and current property information available.
Find Utah Homes for Sale by City
Find Homes for Sale in Utah by Zip Code
I am mister notify